Admission
Thank you very much for your interest in the Program in Economic and Public Policy (PEPP) of the University of Tsukuba! This is the admission page of PEPP. In PEPP, there are two tracks: PEPP WB/ADB scholarship track and General Track. The following document is about PEPP WB/ADB scholarship track. If you are not sure which track is appropriate for you, please also checkPEPP General Track.
The application period of PEPP WB/ADB Scholarship track is now open for enrollment in October, 2019 as below.From enrollment in October 2018, the Course in Public Policy is no longer available. Only the Course in Economic Policy will be offered.
(Updated on November 2018)
General Information on Admission of PEPP WB/ADB Scholarship Track
Application period
November 8th, 2018 – 23:59 February 28th, 2019 (JST)
Application process and schedule from application to enrollment.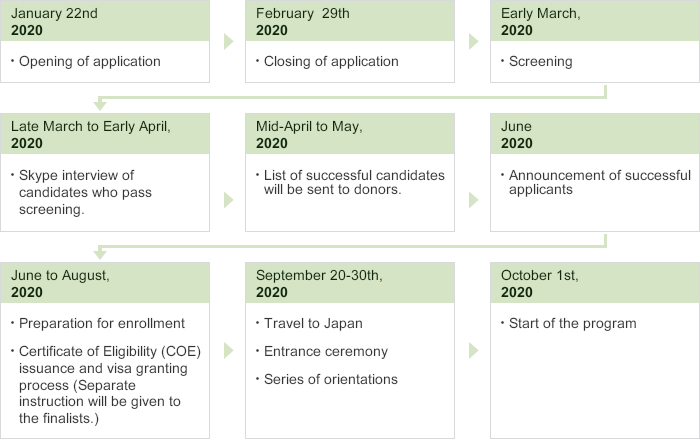 * Please note that schedule may be changed by condition.
To be eligible for applying to WB/ADB scholarships, you must fulfill the requirements listed in Parts I and II.
Applicants who are not eligible for WB/ADB scholarships and wish to enroll in PEPP can apply for admission to:PEPP General Track.
Check if you meet criteria by scholarship. Only applicants who fulfill eligibility requirements of both scholarships can apply to both JJ/WBGSP and ADB-JSP.
i) To apply for a JJ/WBGSP scholaship, applicants must:
Be a national of a World Bank member developing country;
Not hold dual citizenship of any developed country;
Be in good health;
Hold a Bachelor's (or equivalent) degree earned at least 3 years prior to the Application Deadline date;
Have 3 years or more of recent development-related work experience after earning a Bachelor's (or equivalent) degree;
Be employed in development-related work in a paid full- time position at the time of submitting the scholarship application. The only exception to this criterion is for developing country nationals from a country that will be on the updated list of Fragile and Conflict States provided to applicants in the Application Guidelines for each call for scholarships.
Not be an Executive Director, his/her alternate, and/or staff of any type of appointment of the World Bank Group or a close relative of the aforementioned by blood or adoption with the term "close relative" defined as: Mother, Father, Sister, Half-sister, Brother, Half-brother, Son, Daughter, Aunt, Uncle, Niece, or Nephew; *Please note: All eligibility criteria are strictly adhered to. No exceptions are made.
Eligibility criteria WILL NOT change during an open call for applications. However, this information is subject to change between the close of one application process and the opening of the next.
More information about JJ/WBGSP
ii) To apply for an ADB-JSP scholarship, applicants must:
A national of an ADB borrowing member and Japanese ODA scholarship eligible country listed here.
A bachelor's degree or its equivalent with superior academic record.
At least two (2) years of full-time professional working experience (acquired after a university degree) at the time of application. Proficiency in oral and written English communication skills to be able to pursue studies.
Have proficiency in oral and written English communication skills.
Be not more than 35 years of age at the time of application.
Be in good health.
Not more than 35 years old at the time of application. In exceptional cases, for programs which are appropriate for senior officials and managers, the age limit is 45 years old.
In good health.
Should agree to return to his/her home country after completion of studies under the Program.
Executive Directors, Alternate Directors, management and staff of ADB, consultants, and close relatives of the aforementioned are not eligible for the Scholarship.
Staff of ADB-JSP designated institutions are not eligible for the Scholarship.
Applicants living or working in a country other than his/her home country are not eligible for scholarships.
ADB-JSP does not support applicants who are already enrolled in graduate degree programs.
ADB-JSP does not sponsor undergraduate studies, distance learning programs, short-term training, conferences, seminars, thesis writing, and research projects.
More information about ADB-JSP:
1. Check if you meet all application requirements above.
2. To complete application process efficiently and successfully, you must read the Application Instructions carefully before/during application process. FAQ may be of assistance to you.
3. Go to our Online Application System to start application process.
4. In order to start the application process, first you need to register your email address. Once you register, we will send an email to this registered email address. This email shows a link to start the application process.
However, we have noticed that several emails are not delivered and are returned to us due to server errors. When you do not receive our email within 10 minutes after the registration, please first check your spam-mail folder. Our email might be put in your spam-mail folder. When you do not find our email after searching in your spam mail folder, please try to use other email address. As of January 10, we have checked that gmail delivers our email successfully. We have noticed that, as of January 10th, hotmail and livemail server do not deliver our email.
If you have any question regarding application, please send an email to : jjwbgsp@pepp-oas.com
For more information please visit official website